Seriously 100 days left until 2013? I still think it is 2011 or 10 or maybe 1999 but whatever. Kelsey over at
Kelseysews
is hosting this: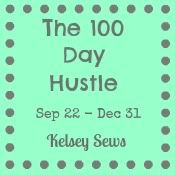 Theoretically a good way to assure we all get projects done before the new year. I love writing lists. So satisfying to cross things off too so here goes.
Tales from Earth and Sea (a roller rink quilt Elizabeth Hartman design)
Spinning starts quilt
October Nubees blocks
Nubees block quilt
lunch bags for the frog festival (yes that actually exists!)
Christmas gift for K
24 figure 8 scarves for Christmas presents
Honey quilt (also Elizabeth Hartman)
Scrap buster placemats
Quilt for my sister A
I'm sure more things will get added to the list but hopefully at a slower rate than it take me to finish things.
EDIT (9/24/12): see I already thought of more...
11. One more pillow for my couch
12. 3 Christmas pillow covers
13. Advent calendar (maybe)
14. Tree skirt (maybe)